x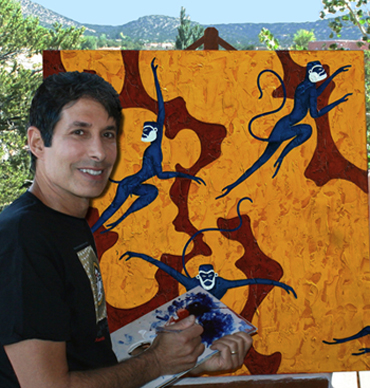 I began detailed drawings of people and scenes at the age of 6, and painting oil on canvas by age 10, which I continued through the late 1980s. During this period I developed a fascination for ancient art history and archeology, with a focus on frescoes and wall paintings. I started to experiment with painting on plaster in hopes of capturing a wall mural effect similar to those in my studies, and in 1990 I created my first fresco secco-style. My passion for creating fresco inspired paintings flourished for the next 12 years. In February 2002 I opened Bogdanoff Gallery, a working studio on Royal Street in New Orleans' historic French Quarter. I relocated to Santa Fe, New Mexico in 2006, home to America's second-largest art market. Now, 27 years after creating my first fresco piece, I am recognized internationally for my interpretive fresco secco plaster paintings. My work is displayed in residences and businesses worldwide, and is featured in numerous national publications.

I am influenced by historic art from the Greek Bronze Age through the end of the Renaissance: scenes depicted in wall murals, friezes, reliefs, vase paintings, and sculptures. I strive to capture the essence of not only a time in civilizations lost but also of past cultures which continue to fascinate archaeologists and art enthusiasts alike. I envision what perceptual properties and styles would be best adapted for a displayed wall painting of a specific subject at that time in history and assimilate my interpretation onto the plaster canvas. I also incorporate my neo-expressionist and realist works with the fresco secco technique, to convey passion and mystery to the viewer through a marriage of classic and modern styles. My perception of color and composition, together with a comprehensive knowledge of archeological discoveries and art history, enables me to create historic and personal moments forgotten in time.
My intent is to achieve the creation and reinvention of images which have the powerful ability to evoke myriad emotions through the awe-inspiring richness and variety of select subject matter and the technique of paint application to plaster.
My initial introduction to fresco art came during my studies of the Greek Minoan civilization, circa 1500BC. The artists from the settlement of Akrotiri on the island of Thera (now known as Santorini) were innovators in utilizing color from the earth, and their free style of drawing and interpretation of subject matter was extraordinary. I believe that art as we know it today was borne from these ancient artists, and I honor them through my work.
Part of my process (for the fresco artwork):
"Once I prepare my plaster/lime "canvas," I rub in numerous thin acrylic pigment washes with towels, brushes, and my palms and fingers, building up layers of the washes until I have a completed painting. I then proceed to "vandalize" my work by distressing the paint and plaster through numerous steps to achieve an appearance of antiquity, which include cracking, breaking, sanding, sawing, chiseling, sculpting, pitting, and staining. After the breaking process, I am left with re-assembling numerous pieces of my canvas, fitting them all back together much like a jigsaw puzzle. There are no faux breaks or cracks in my work. The fresco is then mounted onto a customized precision-sized backing for reinforcement. "